2022 Winner
Congratulations to Ms. Heather Birney of Cobourg, Ontario – our 2022 scholarship award winner.
Heather graduated from Cobourg Collegiate Institute and is now enrolled in environmental science at Flemming College.
Her interest in the environment was prompted by her dad planting a large, thriving garden and her participation in CCI's Environmental Club. Among her several activities include working with the Northumberland Land Trust and attending the Integrated Community Sustainability Plan (Town of Cobourg) focused on creating a sustainable 'greener' community.
Ms. Birney looks forward to moving into the Environmental Technology Program at Flemming with an eye toward several Ontario university programs in environmental sciences and ecosystem and natural resource management.
Best wishes to Ms. Heather Birney, a young
woman moving forward on rough terrain in hip waders!!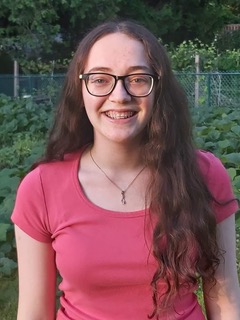 Previous Scholarship Recipients
Due to the pandemic's impact on latter portion of the school year, it was not possible to award a scholarship in 2020.
2021 —
The Cobourg Garden Club awarded a $1,000 scholarship to graduate Ethan Foster of St. Mary's Catholic Secondary School.
Ethan is enrolled in Fleming College's Ecological Restoration program – a Joint Degree/Diploma program (Honors B.Sc.) with Trent University. He looks forward to managing fauna levels in a designated area while working towards increasing low populations of endangered species.
2019 —
Thomas Burgess, a graduate of St. Mary's Catholic Secondary School, received our 2019 scholarship. Thomas is enrolled in Trent University's Bachelor of Conservation Biology program. He looks forward to a career as a research scientist doing field work in environmental studies and conservation.
2018 —
Gavin Brady, a graduate of St. Mary's Secondary School, was awarded the CGC scholarship in 2018. Gavin is studying for his Bachelor of Science and Agriculture at the University of Guelph. He is specializing in CHAT – Crops, Horticulture, Agriculture and Turf Grass Science.
2017 —
Josephine Lansley of CCI was our 2017 scholarship winner. Josephine was accepted at Queen's University and went on to do her first year of study at the Bader International Study Centre in England.